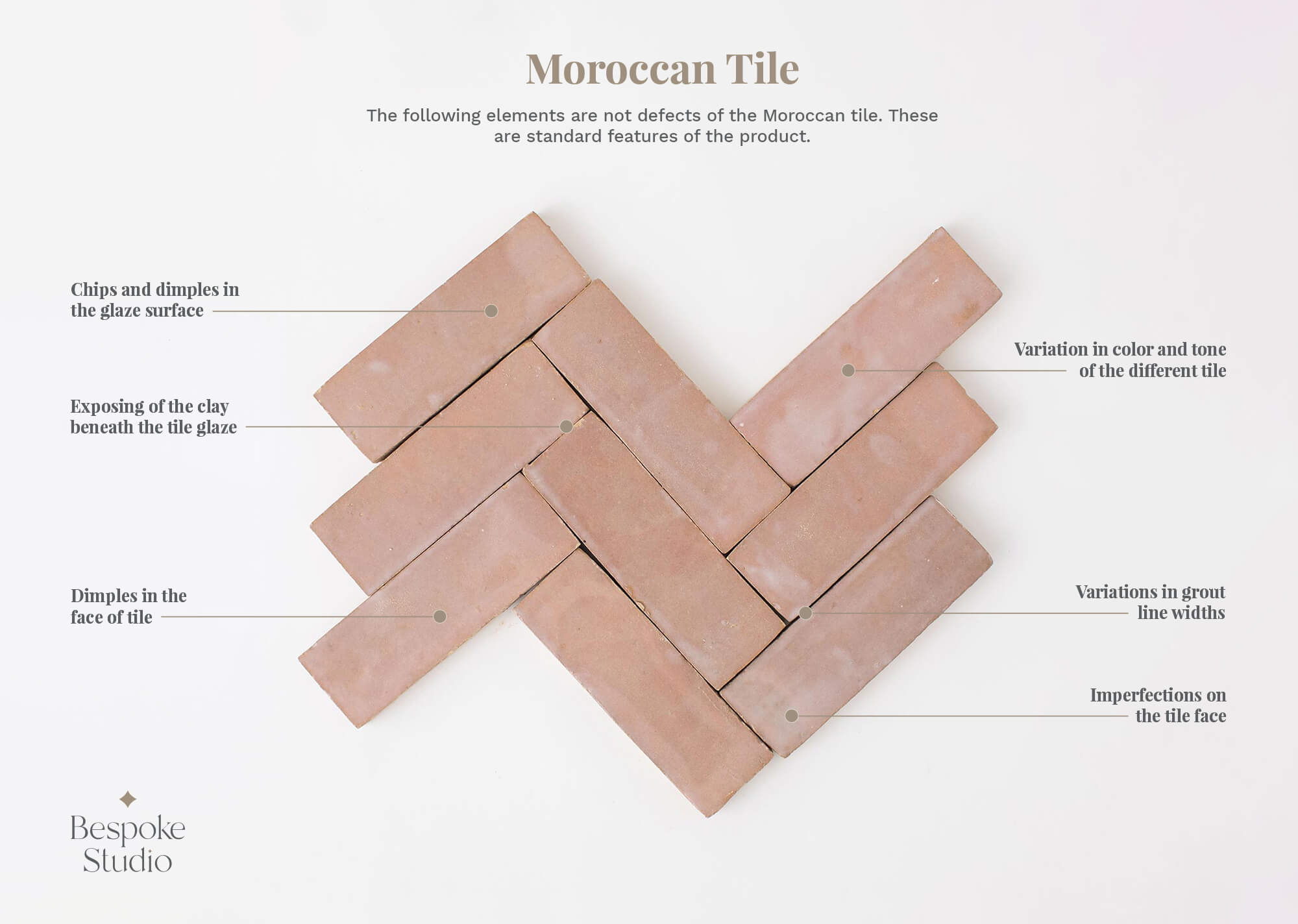 Bespoke Studio products are unique and one of a kind. We have a deep appreciation for their rustic charm as our tiles are made by hand from start to finish by skilled artisans. They have chips, notable color variations, dimples, and uneven surfaces. This gives them a personality and patina all their own.
All that being said, this tile is not an ideal selection for every design and every project.
Here are a few questions to answer before choosing tile from Bespoke Studio:
Do you want perfectly uniform pieces of tile?
If so, this is not the product for you. Please note the following features of Zellige mosaics are not defects, they are what constitute an authentic Zellige tile:
Chips off the surfaces of the glaze, exposing the clay beneath or imperfections on the tile file
Dips/dimples in the surface of the tile
Ink or pen on the glaze surface
The epoxy resin at the back coming through to the front of the mosaic
For assembled sheets- uneven gaps between mosaic pieces
Variation in color between tile pieces
The exposure of the clay beneath the tile
Uneven or inconsistent thickness of each tile – each tile will vary from the next
What is your design aesthetic?
There are clear and obvious variations found in this tile. Edges are hand-chiseled and this is not a design flaw – its look is rooted in these "imperfections".
Are you seeking an exact color match?
The samples you receive will not be a perfect match to your final tile. Due to the inherent shade, size, and thickness variation, individual samples cannot be considered exact representations. The tiles are a handmade product with no guarantee you will receive tiles from the same lot. This applies to custom orders as well due to products being made at different durations of the fabrication process or by different artisans in the factory. If color variation does not suit your design needs, we recommend ordering 20-30% overage. Your installer can then hand-select tiles to achieve a more consistent color palette.
What is your lifestyle?
If used in flooring, households with young kids or active pets will not be suited to the uneven surface of this tile. Please also note: this is a handmade product requiring extra care and attention to maintain its longevity. You must use a mild pH neutral soap to clean this tile and spills/messes should be cleaned within a reasonable period of time.
Who will install your tile?
Proper installation will only be warranted by your installer's knowledge and use of this product. You must only use a professional artisanal tiler for installation. They should fully understand the nature of this product. If you have any doubts about your installer or the product, please reach out to us before you begin installation! YOUR INSTALLATION IS ONLY AS GOOD AS YOUR INSTALLER**
Where do you live?
This product should not be used in a freeze/thaw zone. Bespoke Studio cannot be responsible for material failure in these conditions or from water damage.
If after careful consideration, you are ready to source samples from Bespoke Studio, visit the samples section of the website or our showroom for more information.